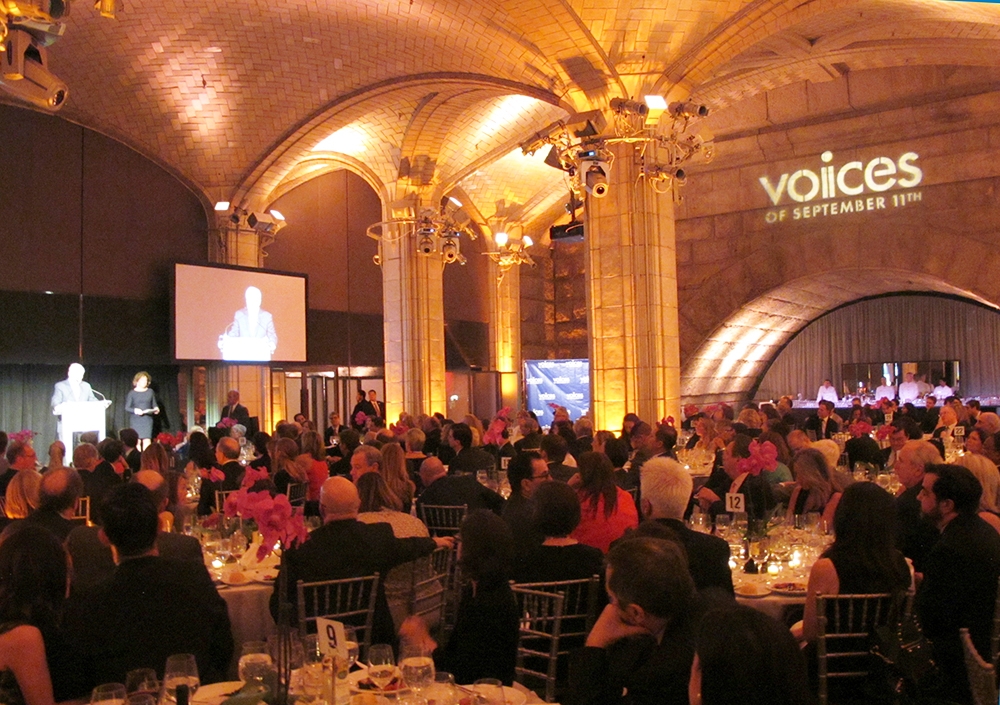 VOICES is grateful for the generosity of our donors whose contributions has sustained our work over the years. In large part these individuals, foundations and organizations have helped us provide over 170,000 hours of ongoing services, and a wide range of programs that support thousands of individuals – making a difference in their lives and the well-being of their families.
Whether contributions are supporting our work with victims' families, survivors and responders; helping us assist communities impacted by tragedy; the VOICES Coronavirus Response Program, or our recent establishment of the Wolfgruber Institute, we are incredibly grateful to our donors for the opportunity they provide us in helping us help others.
Anonymous Donors
Abby Robbins
Al & Denise Hurley
Alexander & Maureen Santora
Anastasia Marchelos
Anne E. Cook
Anne S. Leonhardt Fund
Anthony & Lorraine Gardner
Anthony & Juliana Gregg
Anthony Guzzardo
Anthony J. Domino Jr.
Ashraff Enshiwat
Austin Garrison
Ayman Mohyeldin
Barbara Plummer
Barry & Laurie Small
Ben Bryce
Ben Krinsky
Betsy Garrison
Bill & Pam Wicker
Bradford & Kimberly Higgins
Brenda Vandever
Brian E. Mattiello
Brian and Kelly Lavigne
Brian and James Williams
Carol Ashley
Carole Cooper
Carrie Nelson
Catherine Jaffin
Catherine Ng-Pepe
Celeste Marino Garcia
Charles Chiparo
Charles & Nora Magrath
Charles & Aniela McCool
Chris M. Hussey
Chris & Kathy West
Christel DeSimone
Christian Burgess
Christina P. Evans Serafin
Christine Merritt
Christopher A. & Ann Kojm
Jay & Constance Fitzgerald
Dr. Curtis Fred Brewer
Cynthia J. Campbell
Dana Newbauer
Daniel Kush
David & Rita Kirby
David & Marilyn Malkin
David Pinchin
David & Carolyn Williams
Kevin & Debbie McEneaney
Declan & Eva Brosnan
Denise Parillo
Diana Ferguson
Diana Hetzel
Donald Jannazzo
Donald Kopal
Dorothes Leonhardt
Doug & Diane Dooley
Dudley Roski
Edwin & Beverly Stern
Elizabeth Easson
Eric Beiley
Erik Mathieson
Estelle Tsevdos
Ethel Lavigne
Eugene DeSoiza
Fabio & Amy Freyre
Frank & Mary Fetchet
Frank R. & Marmee Lyon
Fred and Anna Marie Bentfeld
Frederick R.& Betsy Afragola
Frederick and Julie Tufts
George W. & Ann Bodenheimer
Gordon & Carol Segal
Half Moon Foundation
Harry Rhoads Jr.
Hull
Ingrid Lenihan
Ira F. & Laura Lassman
Irene Pierattini
Jack & Paula Loop
Jacob Z. Heber
James and Dede Bartlett
James & Anne Goebel
James & Mary Lee Lesko
James & Kathleen O'Brien
Janet Dell'Aquila
The Jacquelyn & Gregory Zehner Foundation
Jason Elmore
Jeana Lotano
Jeanmarie Hargrave
Jeb B. & Ceal Swift Jr.
Jeff & Joan Blumenfeld
Jeffrey Danile
Jeffrey and Melinda Fager
Jeffrey & Jeannie Shaw
Jenna Barra
Jennifer Vacanti
Jerald L. Pullins
Jeremiah S. Miller
Jeremy Saunders
Jill G. Anderson
The J.K. Sprole Family Fund
Joanne Slattery
John & Mary Beth Arcidiacono
John Carey
John Connorton
John Danish
John & Erin Davis Jr.
John Duffy
John & Mary Ellen Gannon
John & Anna Holbrook
John Schroeder
John Thurlow
Jolene Tepedino
Joseph & Carrie Sindelar
Joseph V. & Sarah Tripodi
Jude Demers
Judith Keane
Karen Dohrn
Karon Walsh
Katherine Chang
Kathleen DeTour
Kathleen Howard
Kathleen McDowell
Dana & Kathryn L. Pasternak
The Kean Foundation, Inc.
Kelly Moore
Kristen Shiner-McGuire
Kristin McNamara
Lane Brettschneider
Laurie Gillott
Leo & Janet Karl III
Leslie & Sheila Klein
Lila DeJulio
Linda Dickinson-Pancila
Linda Ellman
Linda Wilson
Linus Cooke
Lisa Lynne Kirkpatrick
Lorraine Real
Madeleine Blot
Magalie Laguerre-Wilkinson
Marc & Stephanie Wieman
Maria Devitt
Marie Ryan
Mark Bisard
Mark Silverman
Mark & Lisa Wolff
Marsha Scott
Matt Gourlay
Matt & Kathy Mannelly
Matthew & Paula Hannon
Matthew Nussbaum
Matthew Salathe
Melissa Rogan
Michael Anderson
Michael Armellino
Michael & Jeannette Chen
Michael Dillon
Michael & Liz French
Michael & Joyce McNamara
Michele Kirsic
Michelle Suna
Mortimer & Susan Fuller
Natalie J. MacDonald
Nate Williams
Neale Trangucci
New Canaan Community Foundation
Nicholas Alicata
Nicoline Sawabini
Otto & Anne Graves
Paolo & Sheila Clemente
Pat Cocchi
Patricia Kimelman
Patricia Nosal
Patrick & Francene Lanigan
Paul & Kathi Curioli
Paul & Kathy Weaver
Peter & Barbara Carton
Peter & Sally Finnican
Peter S. Krieger
Peter Skaperdas & Kathy Auda
Peter Wirth
Peter & Alice Wyman
Philip Cuthbertson
Pierce & Ashley O'Neil
Pooja Makker
Prashanth Ruthala
Quality of Life
Rand Insurance
Raquel D'Amadeo
Rena C. Fortier
Richard Edwards
Richard Jacoby
Richard Patraw
Richard S. Davis
Richard & Kristin Selvala
Rick Smith
Rick & Trish Worden
Rita Shea
Riva Schmid
Rob & Meghan Cioffi
Robert & Bonnie McNamara
Robert & Mary Caggiano
Robert & Susan Doran
Ronald Sann
Rosanne Kerins
Ruel Longfellow
Sarah Kilcullen
Sarah Ponn
School of the Madeleine
Scott & Lisa Bates
Scott & Carla Stearns
Shane Adams
Stephanie Saltzman
Stephen L. Cartledge
Stephen& Jane Leonard
Stephen & Lisa MacKenzie
Stephen & Jan Winston
Stephen and Katharine Roach Family Fund
Steve Tsai
Stuart & Susan Lovejoy
Susan Saffer
Susan Simon
Susan Wohlforth
Ted & Marissa Lambrinos
Thomas & Christine Ayoub
Thomas C. & Pam White
Thomas & Diane Combs
Thomas & Joy Cronin
Thomas & Kristin Dolan
(The Honorable) Thomas H. Kean
Thomas & Janice Luddy
Thomas & Kimberly Mucci
Thomas & Tracy Phillips
Thomas Wardowski
Tim Brown
Tim & Sheila Pettee
Tom & Ana Nicosia
Tracy Elmer
Traug Keller
Valentine Dowd
Virginia A. Hindy
William & Meg Cobb
William & Sally Hines
William J. & Mary Beth Fessler
William & Mary Ellen McDonald
William & Michele Pomares
William & Wendy Pratt
William & Kathy Togneri
William & Laura Walbert
William Whitaker
Young Women's League of New Canaan