VOICES May Highlights

May 30 marks the 20th Anniversary of the closing of the recovery effort at Ground Zero, a milestone for those who worked tirelessly in the rescue and recovery effort at the World Trade Center site. Thousands attended the solemn ceremony that respectfully marked the closure of a 9-month process. Firefighters, law enforcement and elected officials stood at attention – as the last beam, draped in an American flag was ceremoniously carried up the ramp.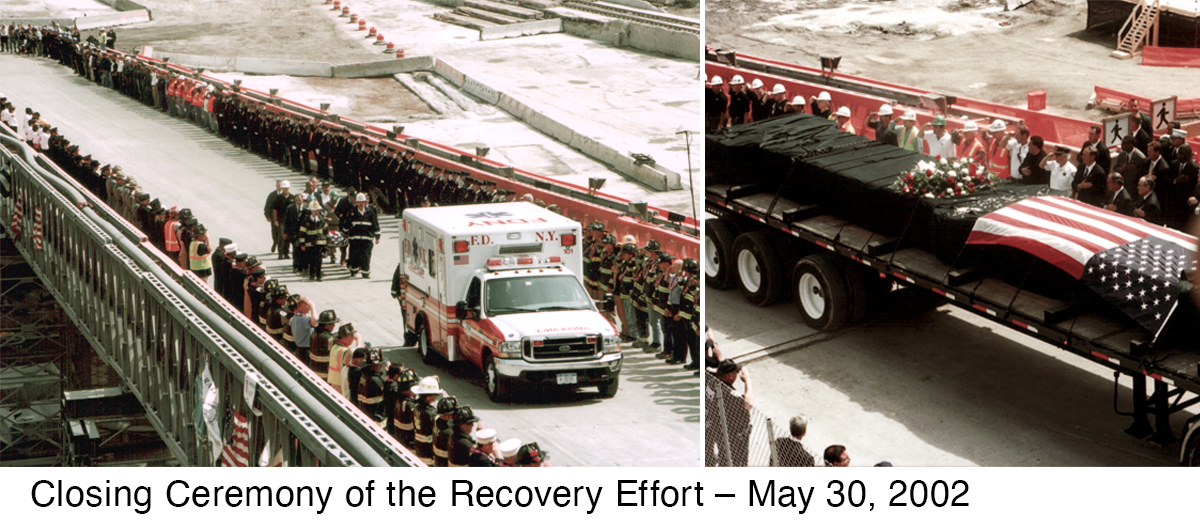 Speaking on behalf of 9/11 family members, we will always be indebted to the recovery workers for their bravery and determination in searching for our loved ones. Over 90,000 worked in the recovery effort and more than 400,000 survived the attacks. At the time, no one anticipated that years later thousands would be suffering, and dying from 9/11-related illness due to their exposure. Today, over 83,000 are in treatment for serious medical and mental health conditions. Tragically, more than 5,000 have died, leaving behind bereaved families.
During the month of May, our programs highlight individuals who have made important contributions to honor the sacrifice of so many. Alice Greenwald, CEO & President of the 9/11 Memorial & Museum and Michael Arad, Architect & Designer of the 9/11 Memorial & Museum and Memorial Glade will discuss memorializing the lives of those lost; John Feal, Founder of FealGood Foundation and 9/11 Responders Park and Fred Guttenberg, Author and Activist and Founder of Orange Ribbons for Jaime will share their stories and reflections on the 20th Anniversary.
Our heartfelt sentiments are with the 9/11 rescue and recovery workers, volunteers and survivors as they commemorate this important milestone.
---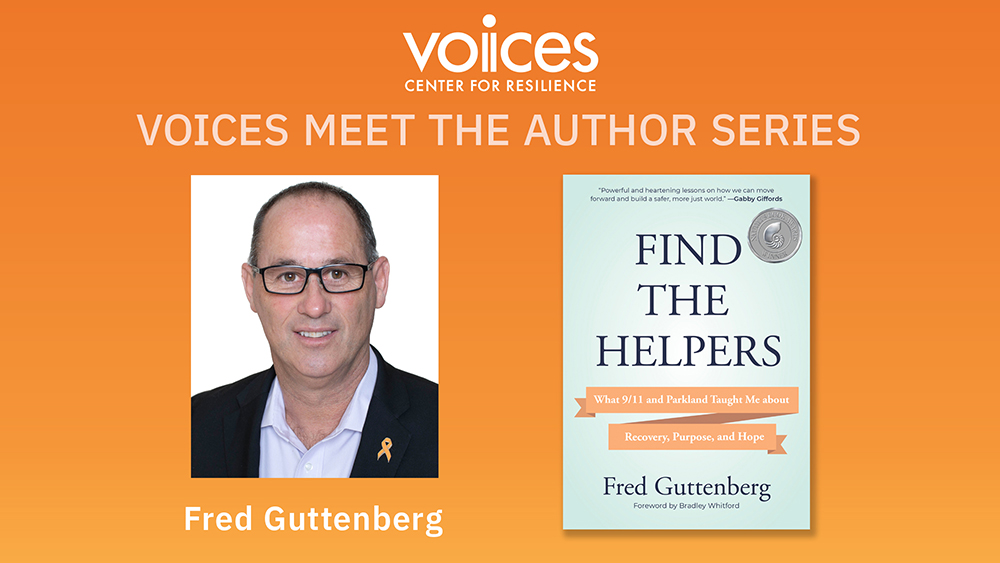 Meet the Author: Fred Guttenberg
Wednesday, May 11 - 7:00pm EST
Join us on Wednesday, May 11 at 7pm to meet Fred Guttenberg, activist and author of Find the Helpers: What 9/11 and Parkland Taught Me about Recovery, Purpose, and Hope. Fred will speak about his personal journey following the loss of his brother to 9/11-related illness and the loss of his daughter in the Parkland School shooting.
Life changed forever for Fred and his family on Valentine's Day 2018. What was to be a day celebrating love turned into a nightmare. Fred's fourteen year-old daughter, Jaime was the second to the last of the thirty-four people shot at Marjory Stoneman Douglas High School in Parkland, Florida. Jaime had a huge heart, and the loss of his daughter and so many of her fellow students who were struck down in cold blood galvanized Fred into action. He became an activist dedicated to passing common sense gun safety legislation.
Fred's book is not about gun safety or Parkland. Instead, Find the Helpers tells the story of Fred Guttenberg's journey since Jaime and Michael's deaths, and how the kindness and compassion of others has gotten him through the worst of times. Fred believes that good things happen to good people at the hands of other good people─and that the world is filled with them. They include everyone from amazing gun violence survivors to President Joe Biden, who talked with him about learning to grieve by finding mission and purpose.
Participation is free, registration is required.
---
Honoring the Legacy of 9/11 Responders & Survivors: A Call for Stories
At this important milestone, VOICES is documenting the stories of responders and survivors. VOICES invites you to share your reflections – either by submitting a written memoir, or by scheduling a time to record your stories during the month of May.
When a story is told, it becomes a shared experience; often demonstrating strength and resilience in response to unspeakable tragedy. Once a story is shared, it becomes part of all of us, and a part of history that is preserved for future generations.
Later this month, VOICES will be announcing our efforts to expand the Living Memorial to honor the lives of those who have died of 9/11-related illness. More details to follow.
To submit a written story for VOICES Living Memorial: the document can be emailed to Stephanie Landau at livingmemorial@voicescenter.org.
To record your story via Zoom: schedule an appointment with Leanne Tormey at ltormey@voicescenter.org or call 203-966-3911.
---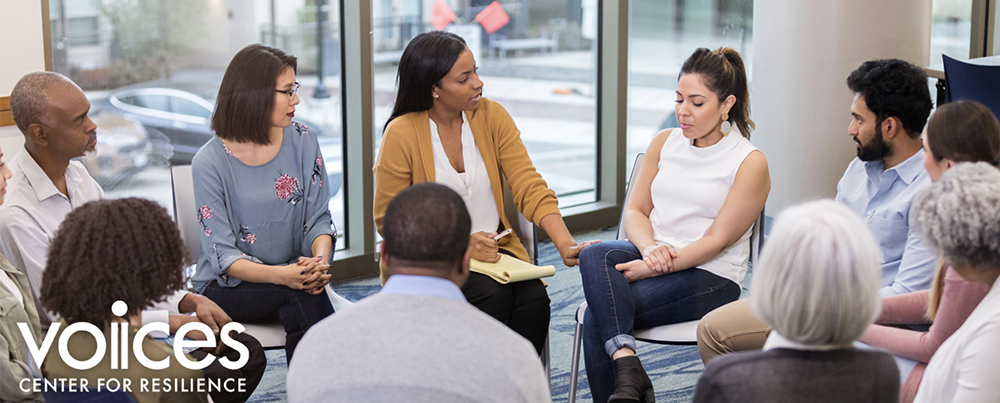 Peer Support Groups for the 9/11 Community
VOICES is hosting Peer Support Groups to provide a safe place for to connect with one another, and acquire skills to build resilience.
Groups are led by VOICES clinical staff and co-facilitated by peers to ensure the conversation is supportive and helpful to all. Meetings are scheduled bi-monthly, and participants are invited to attend one or all of the sessions. Participation is free and registration is required. All sessions are from 12:00pm to 1:30pm EST.
Family Members
Mondays, May 16; June 13, 27 - Register
Survivors
Tuesdays, May 17, and 31; June 14, 28 - Register
Responders
Mondays, May 9, 23; June 6, 20 - Register
Families of Those Who Have Died of 9/11-Related Illness
Tuesdays, May 10, 24; June 7, 21 - Register
Bereavement Group for Those Who Have Lost a Loved One in the Past 3 Years
Begins Thursday, May 5: 12:00pm - 1:30pm EST
---
Newsworthy
Recent articles of relevance to the 9/11 community:
Hundreds take to the steps of Lucas Oil Stadium to honor 9/11 firefighters
A run to remember: 9/11 Memorial and Museum 5K run/walk returns
NY-Presbyterian agrees to accept WTC Health Plan for 9/11 survivors
NY bill would provide comp cover for 9/11 recovery workers
Ukraine war: 9/11 treatments to train counsellors
Firefighters: Register before 9/11 Victim Compensation Fund deadline
Steve Buscemi: 'It's still with me' - Actor on his PTSD after volunteering on 9/11