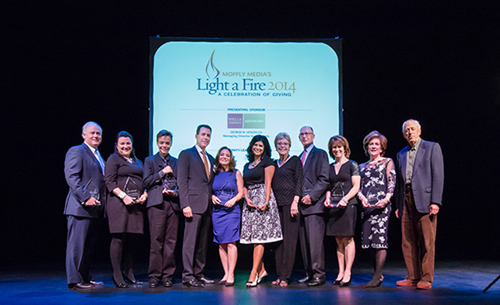 Fairfield County is chock-full of people who just can't stop giving: spouses that compete in a friendly contest to see who gives back more, teens whose over-scheduled afternoons are packed with good deeds, mothers who turn grief into hope and healing for thousands more who are hurting, friends who start a movement to save one child with cancer and won't stop until they save them all.
On November 13, 2014, VOICES Founding Director Mary Fetchet was awarded this year's "Best Friend to Families" award by Moffly Media during its annual Light a Fire ceremony.
A mother's worst nightmare. Her son, a twenty-four-year-old equity trader, had not been heard from since a plane crashed into the South Tower of the World Trade Center. Brad Fetchet had reached his father, from his office on the eighty-ninth floor of that building, after the North Tower had been hit. He told him he had seen someone drop from the ninetieth floor. "I was trying to calculate where he was in the building, and if he had left after he spoke to my husband," says Mary Fetchet, who was working as a clinical social worker in Milford when the nightmare unfolded.
As days turned to weeks after 9/11, the Fetchets, including Brad's two younger brothers, had to face that he was gone. While no parent could ever be prepared for such a tragedy, Mary's background as a social worker—and her incredible fortitude—put her in a unique position to help others who had lost loved ones on that awful day.
"I recognized that families were really challenged," said Mary, a longtime New Canaan resident. "Along with other families, I met with Mayor Giuliani, Governor Pataki, and Hillary Clinton. Through Congressman Chris Shays, I reached out to Connecticut families. I began hosting weekly meetings in my home. That's how I met Beverly Eckert."
Beverly, an insurance executive, had lost her husband on 9/11. She and Mary co-founded Voices of September 11th (VOICES), which began as an informational clearinghouse for families but grew into much more.
"Our mission was to support those impacted by 9/11, to make sure the victims' lives were commemorated, and that the government understood their failures," explained Mary, who was instrumental in advocating for the creation of the 9/11 Commission and an appropriate memorial. VOICES staff met with over 1,600 families in developing the 9/11 Living Memorial project. This online collection of over 70,000 photos and keepsakes that document the nearly 3,000 lives lost is also featured in the In Memoriam exhibit at the 9/11 Museum.
VOICES has provided over 100,000 hours of support services to survivors, victims' families and responders. "We've learned so much in working with these families over the past 13 years," said Mary. "It's so important to be able to share lessons learned." The organization launched the Center of Excellence for Community Resilience and is releasing a resource kit for communities affected by traumatic events.
At VOICES "Always Remember" Gala in 2013, keynote speaker Hillary Clinton lauded the organization: "I'm very proud of what VOICES has stood for and what it has accomplished. It has been voices for all the families that lost loved ones. It has made such a difference in the lives of so many."
Equally meaningful for Mary—who was recently inducted into the Hall of Fame at Columbia University School of Social Work, among numerous other awards—are the small, silent moments. "There is a Japanese mom who comes to our conference every year," Mary recalled. "She lost her daughter on 9/11. We don't speak the same language, but we always look into one another's eyes and embrace. We are bound in friendship through our loss." More.