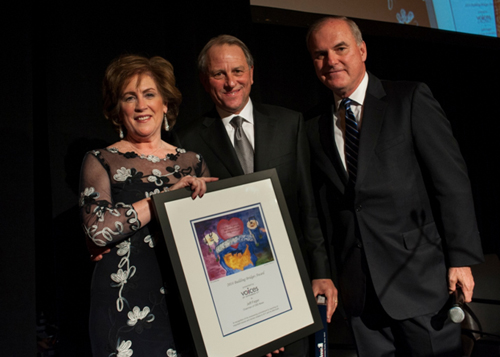 VOICES honored CBS News Chairman and 60 Minutes Executive Producer Jeff Fager with its Building Bridges Award at its 7th annual gala, held at Guastavino's in New York City. Over 300 guests attended this year's gala, which was held on November 5, 2014.
"VOICES is delighted to recognize Jeff for his leadership at CBS News and as Executive Producer of 60 Minutes," said Founding Director Mary Fetchet. "His insights and unwavering commitment over the years to reporting on the important issues and stories surrounding 9/11 and its aftermath are to be commended."
Guests were also treated to a Keynote Conversation with The Honorable Thomas H. Kean, Chairman of the 9/11 Commission, and Senator Joseph Lieberman, Former Chairman of the Senate Homeland Security Committee. The discussion was moderated by CBS This Morning Co-Host Norah O'Donnell.
Governor Kean and Senator Lieberman discussed the findings of the 10th Anniversary report of the 9/11 Commission's recommendations. In addition Joe Daniels, President of the 9/11 Memorial & Museum and Director Alice Greenwald gave an update on the Museum's recent opening.