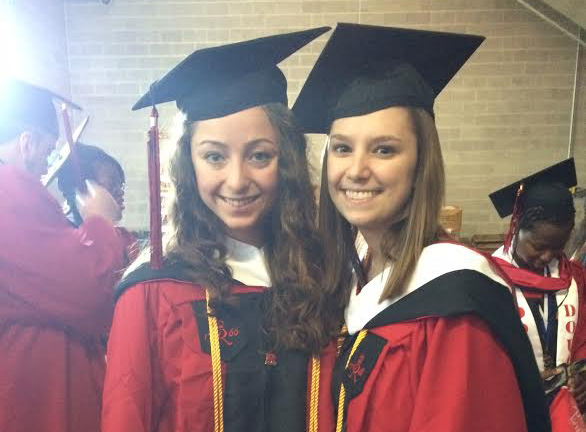 "Intelligent, conscientious, engaging, and empathetic" are the words Sheri Burkat the past Program Director of the New Brunswick, NJ office used to describe the social work  interns Amanda Fennimore and Lauren Picciallo she has been working with for the past year. Amanda and Lauren graduated two weeks ago with their Bachelors in Social Work from Rutgers University on May 19th.
During the past school year, Amanda and Lauren worked on a project funded by a grant from the Robert Wood Johnson Foundation to examine the long-term support needs of 9/11 family members. The two provided information and case management services to assist 9/11 responders and survivors with applications for healthcare throughout the World Trade Center Health Program (WTC HP). The program provides services for responders, workers, and volunteers who helped with rescue, recovery and cleanup at the WTC and related sites in NYC. It also provides services for survivors who were in the NYC disaster area, lived, worked or attended school in the area. Amanda and Lauren also administered needs assessments to Middlesex County 9/11 members, and provided support for outreach efforts and events such as the 9/10 Information Forum, Symposiums, Health fairs, and the 9/11 Memorial Museum.
Two weeks out from graduation and these girls are still hard at work in the area!
 Amanda (right in photo) will be pursuing her Masters Degree in Social Work at Rutgers University this summer through the Advance Standing program. "The school offers an advanced-standing M.S.W. program for students who have earned a baccalaureate degree in social work from an undergraduate social work program accredited by the Council on Social Work Education (CSWE)" (Rutgers.edu). She also has an internship to look forward to. Amanda has accepted a clinical internship at St. Peter's Adult Day Center in Monroe Township. In the future she is planning to pursue a career working with the geriatric population.
Lauren (left in photo) is continuing to work at VOICES throughout the summer on the World Trade Center Health Program and the Middlesex County outreach. She, too, will be continuing her education. This fall, she will attend the The Dickinson School of Law at Pennsylvania State University to pursue a law degree. Lauren plans to practice family law.
Both interns will be manning our booth at the NBC4 Giants Health Fair at Met Life Stadium on July 19th and 20th. Stop by and say hi during this fun event and get a chance to get free health tests and screenings, learn more about the World Trade Center Health Program as well as have fun with family or friends out on the field where Giants players dominate!